Journey to
Inspiration
Client: Be Well OC
Role: WEBSITE
SITUATION
Be Well OC, a non-profit mental health coalition, bring together the best-in-class capabilities of public, private, academic, faith-based entities, and other to create a coordinated system of care to solve the pervasive mental health care challenge.
The Be Well OC website was not user-friendly for its various constituencies to find relevant information. There was no call to action or mechanism to accept donations. Be Well OC hired Creative Shoebox to streamline the website into an effective communication tool for multiple constituencies and an inspiring fundraising asset.
STRATEGY
Creative Shoebox updated and upgraded the website's design (bewelloc.org) and organized the content into four user journeys corresponding with Be Well OC's key stakeholder groups. Creative Shoebox arranged Be Well OC's priority content into user-friendly sections that educate, inform and guide visitors to the appropriate areas to give, get involved, and get help.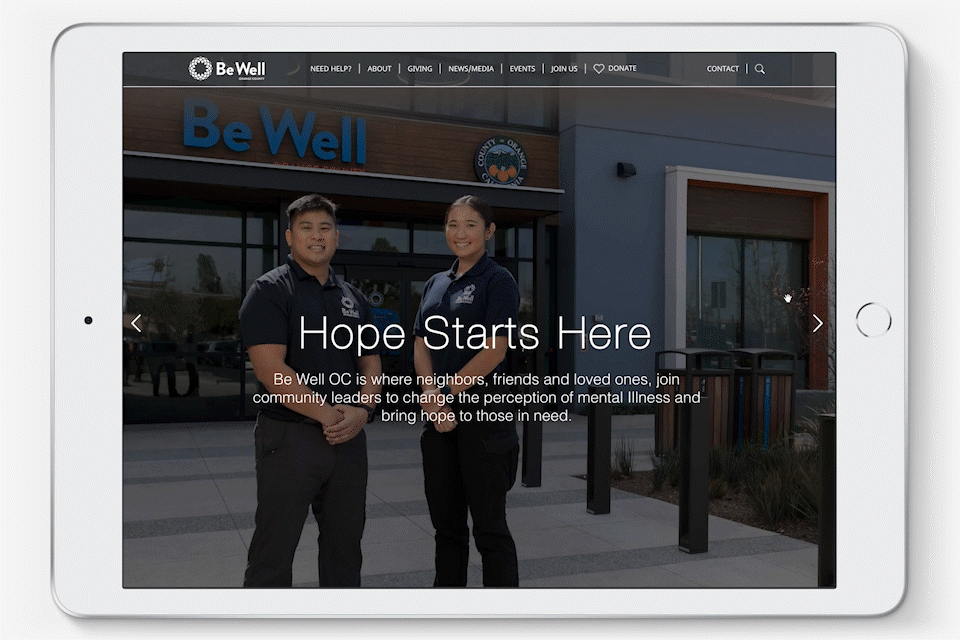 RESULTS
Be Well OC leaders are delighted with the new website. Staff, volunteers, and users report that it's easier to navigate and find relevant information. It's an impactful tool Be Well OC actively uses to solicit donations, connect with partners and volunteers, and provide assistance to individuals and families in need.
"I hired Creative Shoebox because I knew they would do a great job and they did. Greg sets a high bar for himself and his team, and when you hire him for a project, he's all in. The Creative Shoebox team is as invested in the success of my projects as I am. They're passionate about the work we're doing, and they have our best interests at heart. That's why I love working with them. They care a whole lot and they get it. That's huge for us."
– Stacy Skwarlo
Executive Vice President, Development